Outdoor and Indoor Porch Shades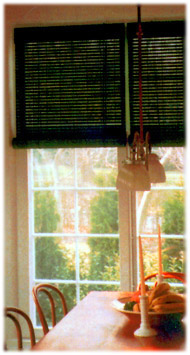 Shady Ladies porch shades add the final touch to your sun porch or screened porch . They allow you to block out the glare and heat of the sun while letting the cool breeze through. Wood offers high insultating value which helps to keep your porch considerably cooler.
Made only of the finest North American Basswood they are easy to install and simple to operate. Our acrylic plasticized stains contain fungicide to help prevent mildew. These stains allow for year-round outdoor use as well as indoor applications to enhance the look of any porch or room in your home.
Standard features include: Sturdy patented fisherman seine twine; heavy, steel plated heardware, cord locks and pulleys, acrylic plastized mildew resistant stains; wind cords to guard against weather damage. Custom color matches are available.
Outdoor Shades
Standard or Custom Shades- The 7/8" square edge slats on these shades allows for adequate ventilation and still permit just a touch of sunlight. An optional 6" valanace is available. The "Standard" comes in specific sizes. The "Custom" is the same shade but is available in custom sizes to fit your exact location.
The Rayn-Tite outdoor model offers 7/8 inch beveled overlapping slats that force the rain to run off the outside of the shade, providing the ultimate in weather control, and enhanced privary at the same time. A 6 inch valance is included to hide the hardware and provide the perfect finished look.
The Style-Lite outdoor model offers 3/8 inch square edge slats, providing adequate ventillation with just a touch of sun light when lowered.